Aug 26, 2020
Webinar: Reclaiming the Ancestors: Indigenous and Black Perspectives on Repatriation, Human Rights, and Justice
Webinar
Wenner-Gren Hosted Event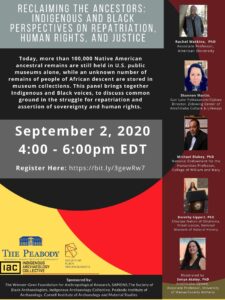 General
On Wednesday, September 2nd the Wenner-Gren Foundation co-sponsored the webinar, "Reclaiming the Ancestors: Indigenous and Black Perspectives on Repatriation, Human Rights, and Justice".
Over the last several centuries, Indigenous, Black, and other colonized peoples' remains have been turned into objects of study for archaeologists, anthropologists, and other scientists. This can be seen most clearly in the collection of their ancestors, often excavated from cemeteries and burial grounds and taken to museums around the world. Today, more than 100,000 Native American ancestral remains are still held in U.S. public museums alone, while an unknown number of remains of people of African descent are stored in museum collections.
What does it mean to turn human beings into artifacts? What happens to the living communities who lose control and ownership over their own ancestors and heritage? In exploring these questions, this panel will discuss how repatriation–the process of reclaiming and returning ancestral and human remains–can address inequality. The discussion will further ask how repatriation might encourage a reckoning with the colonial violence experienced by Native and Black Americans in the past, which still reverberates in the injustice their descendants face today. Bringing together Indigenous and Black voices, this panel discussion finds common ground in the struggle for repatriation and assertion of sovereignty and human rights.
Panelists
Michael Blakey, PhD, NEH Professor, College of William and Mary
Dorothy Lippert (Choctaw Nation of Oklahoma), PhD, Tribal Liaison, National Museum of Natural History
Shannon Martin (Gun Lake Pottawatomi/Ojibwe), Director, Ziibiwing Center of Anishinabe Culture & Lifeways
Rachel Watkins, PhD, Associate Professor, American University
Moderator
Sonya Atalay (Anishinabe-Ojibwe), PhD, Associate Professor, University of Massachusetts Amherst
CART captioning by Lori Yeager Stavropoulos
Sponsored by the Society of Black Archaeologists, Indigenous Archaeology Collective, Peabody Institute of Archaeology, Cornell Institute of Archaeology and Material Studies, Wenner-Gren Foundation for Anthropological Research, and SAPIENS
While Wenner-Gren is proud to be providing a platform for this event, the views expressed do not necessarily reflect those of the Foundation.