Jan 22, 2021
Webinar: Fugitive Archaeological Spaces
SAPIENS
Webinar
Wenner-Gren Hosted Event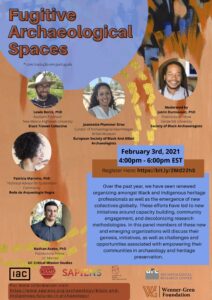 Watch it now! Fugitive Archaeological Spaces, the next installment in the monthly series From the Margins to the Mainstream.
Over the past year, we have seen renewed organizing amongst Black and Indigenous heritage professionals as well as the emergence of new collectives globally. These efforts have led to new initiatives around capacity building, community engagement, and decolonizing research methodologies. In this panel members of these new and emerging organizations will discuss their genesis, initiatives, as well as challenges and opportunities associated with empowering their communities in archaeology and heritage preservation.
Panelists
Nathan Acebo, PhD, Chancellor's Postdoctoral Fellow in Critical Mission Studies, University of California, Merced
Lewis Borck, PhD, Assistant Professor at New Mexico Highlands University and a founding member of the Black Trowel Collective
Patricia Marinho, PhD, Archaeologist, Technical Advisor for Quilombola community, and a member of Rede de Arqueologia Negra
Jeannette Plummer Sires, Curator of Archaeological Assemblages at the British Museum and a founding member of the European Society of Black and Allied Archaeologists
Moderator
Justin Dunnavant, PhD, Academic Pathways Postdoctoral Fellow at Vanderbilt University and Co-founder/President of the Society of Black Archaeologists
CART captioning provided by Lori Stavropoulos
Sponsored by the Society of Black Archaeologists, Indigenous Archaeology Collective, Archaeological Research Center at UC Santa Cruz, Cornell Institute of Archaeology and Material Studies, Wenner-Gren Foundation for Anthropological Research, and SAPIENS
While Wenner-Gren is proud to be providing a platform for this event, the views expressed do not necessarily reflect those of the Foundation.