Feb 25, 2021
Webinar 3/3: The Fire This Time: Black and Indigenous Ecologies
SAPIENS
Webinar
Wenner-Gren Hosted Event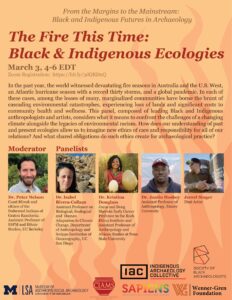 We are excited to announce the next webinar sponsored by the Society of Black Archaeologists, Indigenous Archaeology Collective, Wenner-Gren Foundation for Anthropological Research, Cornell Institute of Archaeology and Material Studies, and the Museum of Anthropological Archaeology at the University of Michigan.
The seminar will be moderated by Dr. Peter Nelson (Coast Miwok & citizen of the Federated Indians of Graton Rancheria; UC Berkeley) and panelists include Diné artist Jerrel Singer, Dr. Isabel Rivera-Collazo (UCSD), Dr. Kristina Douglass (Penn State) and Dr. Justin Hosbey (Emory University).
The webinar will be hosted on Zoom and live-streamed via Vimeo. Live CART captioning will be provided and live translation will be offered in Spanish and French. The event will be recorded and available for later viewing.
This virtual panel discussion is part of a year-long series that features transformational approaches to archaeological storytelling. More information on the event series can be found here.
While Wenner-Gren is proud to be providing a platform for this event, the views expressed do not necessarily reflect those of the Foundation.