Feb 4, 2021
Webinar 2/19: Africanising Archaeology and Palaeoanthropology: Decolonization, Race and Inequality
Webinar
Wenner-Gren Hosted Event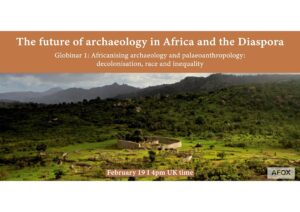 General
Starting on Friday, February 19th, 11:00 AM (EST), 4:00 PM (GMT), the African Oxford Initiative will be premiering their new webinar series, The Future of Archeology in Africa and the Diaspora. Be sure to check out the first in the series, Africanising Archaeology and Palaeoanthropology: Decolonization, Race and Inequality.
ABOUT THIS EVENT
The impact of the Covid-19 pandemic and increasing global inequalities, suggest that archaeology must reinvent itself to go beyond colonial applications and provide models of alternative knowledge that have the potential to contribute towards sustainable development.
The webinars will feature experts from around the world to explore questions such as:
Who receives and benefits from funding for research?
Can we apply Africa's archaeological and cultural heritage to contribute to sustainable development, trans-cultural education and social justice?
Will Africa ever get improved infrastructure for research?
How can we reinvent archaeology with positive knock-on effects to social justice?
Speakers
Prof Shadreck Chirikure, University of Oxford
Prof Iddir Amara, Algiers
Prof Rebecca Rogers Ackermann. University of Cape Town
Prof Kristina Douglass, Penn State University
Dr Freda Nkirote, British Institute in Eastern Africa
Prof Innocent Pikirayi, University of Pretoria
Prof Ibrahima Thiaw, FAN, Senegal
The series continues on:
Friday, March 19th, 12:00 PM (EST), 5:00 PM (GMT), – African Archaeology at Home and in the Diaspora: Funding & the Role of Professional Associations. 
Friday, April 23rd – (Time TBA) – Archaeological Science in Africa and the Diaspora: Present Situation and Future Prospects.
These globinars are hosted in partnership with TORCH Oxford, St Cross College, Oxford's School of Archaeology, University of Cambridge, University of Cape Town, Great Zimbabwe University, Pan African Congress for Prehistory and Related Studies, Society for Black Archaeologists, Society for Africanist Archaeologists, SAPIENS, and Wenner Gren Foundation.
While Wenner-Gren is proud to be providing a platform for this event, the views expressed do not necessarily reflect those of the Foundation.