NYAS @ Wenner-Gren: April 3rd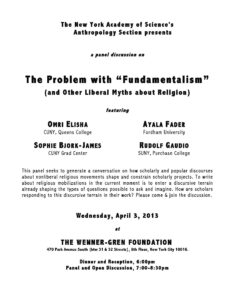 The 2013 Anthropology Section Lecture Series continues this upcoming Wednesday, April 3rd, for a special panel discussion featuring Omri Elisha of Queens College, Sophie Bjork-James of CUNY Graduate Center, Ayala Fader of Fordham University, and Rudolf Gaudio of SUNY Purchase College.
This panel seeks to generate a conversation on how scholarly and popular discourses about nonliberal religious movements shape and constrain scholarly projects. To write about religious mobilizations in the current moment is to enter a discursive terrain already shaping the types of questions possible to ask and imagine. How are scholars responding to this discursive terrain in their work?
The 7:00 PM talk will be preceded by refreshments at 6:00 PM. It is free to attend the event, but registration is required.